a. Newly design children amusement game machine;
b. Attractive background music and game design, happy music;
c. more funny, more exacting waiting for you.
kinds of cute birds, weapon,planes, interesting small games;
How to Make a Ninja? Scored fruit from the beginning……
Colorful fruit thrown from the bottom up, sometimes mixed with a bomb, before landing in the fruit, on behalf of your fingers on the screen, draw knife cut fruit. Note - Do not drain cut fruit, not Cut the bomb.
● Rules of the game
A game, if not Cut the fruit to three or Cut the bomb, the game is over. If more than one fruit knife cut the (greater than or equal 3), the proceeds will be multiplied by the corresponding integral multiples. (I knifed three times three points from fruit, fruit from a knifed four points multiplied by 4, one knifed five times five points from fruit, a fruit and knifed more than five times from 5 points.)
● Game Flow
1、 into the game currency to meet the game open, the game automatically.
2、 program cut all the fruit thrown, do not let the fruit left out, do not cut the bomb.
3、 A knifed more than three fruits (including three) to get more points.
4. if cut leak three fruits the game will ends.Cut the bomb is less divided, End of the game screen will pop up settlement
5、Click to continue the game after the game to continue, the remaining number of game currency by 2, the cumulative points from the last.
6、Click the coin reward players after the machine from tokens, the game enters the standby state.
7、Click obtained after re-start points to 0, the number of players left the game currency by 2, the game begins again.
● The crazy moment
May occur during the game, "color banana", cut in this "color banana" into the "crazy time" status. This state for 20 seconds, excluding the scored fruit fall time, and will not bomb. "Crazy moment"
see below ↓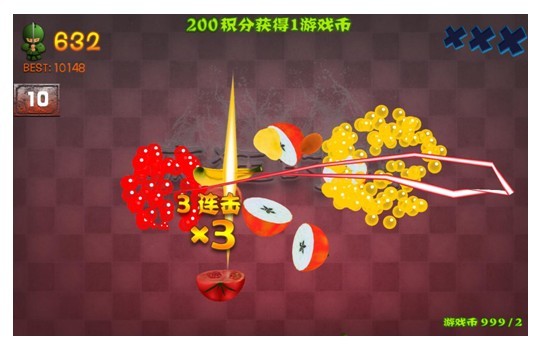 ● Golden Apple
There is a certain probability of the game a "Golden Apple", cut in the "Golden Apple" award random points given by the system. ("Golden Apple" award a total of five points: 100,500,1000,5000,10000, the system rewards based on income and expenditure to determine the specific value.) "Golden Apple" see below ↓